Say cheese!
#everybodysaycheese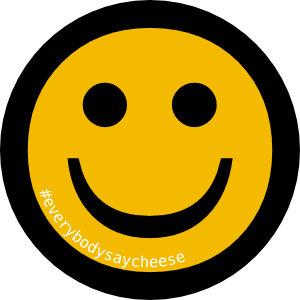 This project's ambition is to make people smile, because smiling makes people happy, and because happy people are happy. Note that smiling to people often make them smile in return, so happiness can propagate this way.
Take action!
What we need is a way to bootstrap the process in as many places and at as many times as possible. So first, you should start to smile whenever you can, to whoever you can.
But I believe it is possible to do more, by putting smiling faces everywhere people can see them!
This is why I designed this smiling face to put on stickers: it smiles to whoever views it, and it has this small #everybodysaycheese text which might intrigue people and thus make them look for it, find this page, and participate in the movement!
I take it that you understood the idea is not to get those stickers on laptops only ;-), even if it's also a good idea!
Get stickers (for free!)
I have a lot of stickers measuring 75mm in diameter (that's about 3in).
If you want some, please send me your name and postal address at esc at uzy dot me with [ESC] in the subject.
I will send you a few of them as soon as possible, no matter where you are in the world.
If this ever becomes unsustainable, I'll see what I do, maybe ask for donations or something.
In any case, please send me pictures and/or locations of where you put the stickers I sent you! :-)
Make your own
The #everybodysaycheese smiling face is licensed under Creative Commons Attribution 4.0 International license (attribution should go to p4bl0 at this page's URL).
If you want to order your own stickers, or put the #everybodysaycheese smiling face on some other types of products (mugs, t-shirts, …), you can download the PDF version of the #everybodysaycheese smiling face, with CMYK colors and with a 300 dpi resolution (perfect for printing) here: everybodysaycheese.pdf. The SVG source is here: everybodysaycheese.svg.
Other initiatives
Since I started this I learned about the preexisting Wikipedia's Template:Smile which is a similar idea. Nice!